Is Not Simple and Not Easy, If you don't want to learn seriously then why you here ?
Disclaimer and Warning.
==================================================================================
1. All of my share here is for educational purpose only.
2. All tools or systems share here 'freely' as is and with your own risk.
3. I only share EX4 file, so please never ask for MQ4 file
4. Past performance could not guarantee future result.
5. If sometimes in the future, someone contact you by e-mail or Private Messages or by other way of communications and acting or pretending like me,
and asking for help and/or requesting money for any reason. Please IGNORE IT immediately.. and please post your finding / inform our forum admin.
===================================================================================
4B - BEST BOLLINGER BAND BROTHERHOOD
This is my 2nd thread here in this great BOE Forum, I create new thread here for continuation of my 1st Thread here, for my specific new version spot forex trading template called 4B, that could also use as bins set up for specific TF M1, M5 and M15.
In this new 4B template version, I add my new indicator called Little Star, that I create since I joined this great forum couple weeks ago, so this is only early version, and I share 'her' (lite version), to all of you so you could observe and test 'her' in tandem with my 4B template..
Of Course you could use 'her' alone of in combination with other tools , but please allow me to remind that this is early version that still in developing, and not suggested to use for real trading.
This Little Star 'arrows' Indicator has 20 types price option and 20 types Average Calculation, and also has basic stat option, (without win/loss calc for this early version), only for expiry bar set (default 3 bars for TF M5).
As default The 'star' signal and alert will show up immediately when there 'calculation matched' and still recalculate before candle close. (don't called it repaint..if you don't really understand what repaint meaning..lol).
In Combination with my 4B template (which I already explaining several time on how to look at it.. in my other thread), you could follow the 'star' signal, when it confluence with other tools inside the template.
Here is how it my template with little star look like
and in this new 4B template, I remove that fast kumo, that previously act as entry trigger, and replace it with this little star..
and this is the default of little star setting;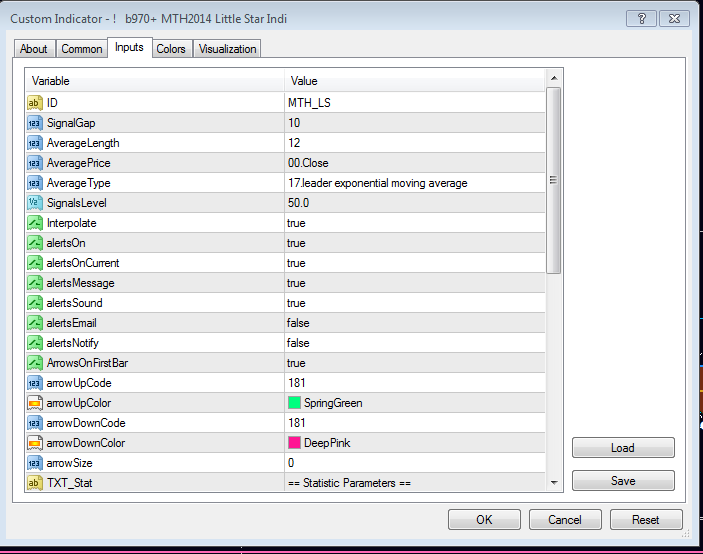 I believe that most of you already know how to install indicators to your MT4 platform, so I will not explain anything about 'installation' , If you don't know then do your homework, try 'google' ..lol.
there's big different between newbie and lazy.. so don't be the 2nd .. type..
So, here we go, enjoy my free share 'as is' , don't ask for this or that, just learn it first , I'm open for discussion, the good one of course..
Special Welcome to my fellow Spartan Penguins Brothers..
Having Fun and Go Green Guys......
MTH2014